See also: http://clashofclans.wikia.com/wiki/Thread:343857
The Magma Eagle is a new dark elixir unit unlocked at TH11.His role in an attack is to do most of the damage.He goes up to level 3.He doesnt do splash.He is an expensive glass cannon with 5 special abilities.The first one is that when he hits a defense,it will make it slower.The second one is that he can deal double damage and splash to ground buildings(aka the ones that dont attack him) with double loading time.The thrid ability is that he is immune to archers.The fourth is that whenever a defense hits him,he locks on it and kills it,even if its not the original target.The fifth ability is that when an air defense hits him,even if he is locked in another defense,he changes target and attacks the air def with a 15% haste effect.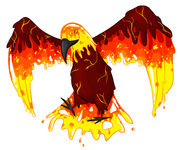 Level 1
HP:550
DPS:230
Cost:200 RE
Barrack Cost:6,500,000 E
Slowness:-13%
Slowness Duration:4 secs.

Level 2
HP:787.5
DPS:310.5
Cost:250 RE
Research Cost:105000 DE
Research Time:8 Days
Slowness:-27%
Slowness Duration:5 secs.
Lab Level Required:9
Level 3(if TH12 is added)
HP:1050
DPS:391
Cost:310 RE(I think)
Research Cost:140.000 DE
Research Time:10 Days
Slowness:-41%
Slowness Duration:6 secs.
Lab Level:10